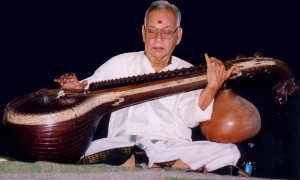 R. Pichumani Iyer, leading veena exponent in the Carnatic music stream passed away on June 20. He was 96 years old. He spent over 75 years in Mylapore before moving to the suburbs.
R. Raman, a sishya writes a tribute to his guru –
Pichumani Iyer was born in Nagapattinam in 1920 and migrated to Mylapore during 1941 and has been a Mylaporean since then. He lived in Arisikkaran Street and Mundaga Kanni Amman Koil Street for nearly 75 years.
He studied up to SSLC in the National College. Later, he joined the Annamamalai University and obtained the 'Sangeetha Bhushanm' in veena. While there, his teachers were stalwarts such as 'Tiger' Varadachariar and K. S. Narayanaswami Iyer. He had early training in vocal music from Jalar Gopala Iyer and learnt to play on the veena from 'Tiruchi' Kuppanna.
Film director K. Subrahmanyam, father of dance guru Padma Subrahmanyam, brought him to Chennai to play veena in his movie songs. He helped him settle down in Mylapore area, near Jupiter Studios (what became Admirality Hotel), off Norton Road.
He started his career as a veena player at Jupiter Studios in Chennai in 1941. During this time he taught veena to a number of people, one of them who was 'AVM' Rajeswari. When her husband Meiyyappa Chettiar, noticed the skills of Pichumani, he offered him a permamant position at AVM Studios.
At AVM Studios, he played the veena for many popular movies and songs, most famous being the song 'Malai Pozhuthin mayakkathile' in the movie 'Bhagyalakshmi.'
He was a top artiste of AIR and Doordarshan. He was a recipient of various awards such as Kalaimamani in 1970 and Sangeet Natak Academi award ( presented by the President of India) in 1988.
He was the asthana vidwan of Sri Kanchi Kamakoti Peetam. The Paramacharya of Kancheepuram Kama Koti Peetam honoured him with the title 'Veena Nadamani'. He also served as secretary of the Tyaga Brahma Mahotsava Sabha in Thiruvaiyaru in 1980.
He trained a number of students including R. S. Jayalakshmi, Vasantha Krishnamurthy (of AIR) and Vasantha Kumar. His disciples Ramnath Iyer and Gopinath Iyer moved to Australia. They run a music college in Melbourne in the name of R. Pichumani School of Veena, which celebrated its silver Jubilee recently.
In his latter years, he moved to the suburbs.
Pichumani is survived by two sons and two daughters and grand and great-grand children. Contact his son P. Viswanathan at 9381814804.