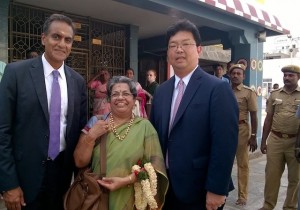 US Ambassador to India Richard Verma who was visiting the city top of this week on official work took time off to go around Sri Kapali Temple and drop into Sri Karpagambal Mess on East Mada Street to have a cup of coffee. Verma was going around to get a feel of the old part of this city and he was guided on this short tour by freelance writer and community activist, V R Devika.
Verma told Prabudass, owner of Karpagambal Mess that he had lots of cups of coffee at work and liked what was served.
Accompanying the Ambassador, was the Consul General in Chennai Phillip Min.