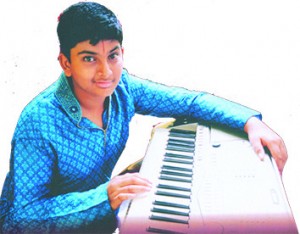 S. Sashank Krishna is a student of Class IX at Vidya Mandir school. He is a musician and is part of the group of musicians who hold the Guiness and Limca Record for Largest Electronic Ensemble.
Sashank is a student of master M. S. Martin. He has given many performances in temples in the city at festivals.
Along with his teacher, Sashank has performed in the Thyagaraja Aradhana at Thiruvaiyaru. Music is his passion, but he seems to be a jack of all trades.
Good at chess and math, Sashank has won awards in national competitions in Vedic math and abacus. He says he will chose the field of computers after completing his schooling.
Contact his mother Sangeetha Sriram at 9841182885.