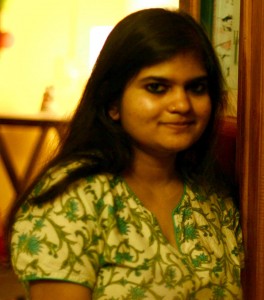 Niveditha Subramaniam calls herself a 'writer/illustrator'. She co-authored a book 'Mayil Will Not be Quiet' with Sowmya Rajendran. This book was published by Tulika and has won the Bal Sahitya Puraskar for 2015. The book is a humorous coming-of-age diary of an outspoken 12-year-old and is an attempt by the authors to introduce gender to children.
Niveditha is from Alwarpet. She completed her schooling at KFI and her UG in Literature at Stella Maris. After college, deciding to explore the world of children's books, Niveditha did an internship with Tulika for about 7 months. Then came a stint with Chandamama magazine working with a team to redefine their traditional mythological look. Deciding to take a break, she then did photo journalism in Ooty and then came back to Tulika to work as an editor. Now, Niveditha is off to Cambridge to pursue a Masters degree in children's book illustration at Anglia Ruskin University.
Writing and photography keep her occupied. 'I like anything visual' she says. 'Even my story ideas come from something that I have seen or imagined vividly' she adds.
Niveditha plans to continue working in the area of children's books. With degrees in art and literature, she hopes to be able to work professionally in both areas of a book. You can reach Niveditha at 9840612476.