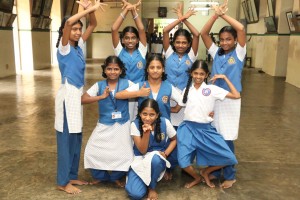 Students of Lady Sivaswami Ayyar Girls School will be putting up a cultural programme for Independence Day. Seen in the picture are the girls practising for the same.
At Vidya Mandir, Luz, students of classes VI and above will assemble at the school premises to take part in the Independence day celebrations. 8 a.m onwards.
 Sivaswami Kalalaya Senior Secondary School, Mylapore will be celebrating our nation's 69th Independence day at the school premises at 7.30 a.m.
Sree Karpagavalli Vidyalaya will be celebrating Independence day on Aug 15 at the school campus. The president V. Krishna Kumar will preside over the function and hoist the national flag. J.Madanagopal Rao, chairman, Lions Blood Bank, Egmore is the chief guest.
School trustee S. Karnaprakasam will distribute prizes to the children. A special cultural programme by the students of the school will follow. At East Mada Street, 9 a.m. Ph: 24958726.