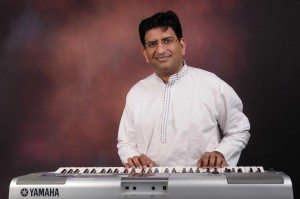 R. N. Ramkumar, IT professional and musician, has released a new album recently. This album is a fusion of many things – the lyrics are a fusion of the words by Bharathiyaar and Thiruvalluvar. The concept too, is a fusion of technology – old and new. Says Ramkumar, 'even though Bharathi and Thiruvalluvar are separated by centuries, their poems talk about similar values. We wanted to highlight those and set them to music.'
The album named 'Kannamma – The Play of Shakthi', has been released recently by Giri Trading. Music has been composed by R. N. Ramkumar and songs, sung by various artistes. This album has been released in the form of a mobile app –  https://play.google.com/store/apps/details?id=com.appytunes.giri.kannamma
In adroid phones, the app can be downloaded free of cost.
Ramkumar is an IT professional and a resident of Luz Church Road. He is a part-time music composer. The idea evolved as a collaboration with Arul Mani and songs sung by musicians like Prasanna and Ananth.
For details, contact Ramkumar at 9840299384.