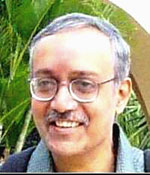 G. Kameshwar may be an engineer by profession, but he is passionate about Indian mythology and culture. He has also authored several books and has also done poetry translations from Tamil and Sankrit to English, Hindi and Tamil.
He is an avid story teller – he narrates and discusses stories from the great epics – Ramayana and Mahabharata . He has covered the entire epic Mahabharata in a span of 10 years (around 520 hours of narration), from 2002 to 2011. He has been narrating the Ramayana for the last four years, and has reached Sundara Kandam .
His classes are held at RaSA at Thiruvanmiyur, every Saturday. The classes are recorded and uploaded on social and video networking sites for all to hear.
Parts of the epics are available in cd format and is sold at a very nominal cost. Proceeds goes towards the rehabilitation of young adults and adults with special needs.
You can read Kameshwar's blog at https://gkamesh.wordpress.com/ and contact him at gkamesh@rocketmail.com