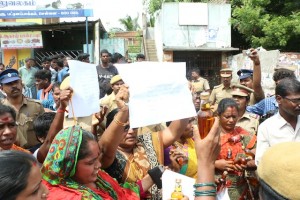 There were many more protests against TASMAC liquor shops in the Mylapore area. The biggest of them seems to have been the one that took place in Pattinapakkam ( Foreshore Estate) this noon when over 50 plus women staged their protest in front of the liquor sales shop located at the gate of the local MTC bus terminus.
Some of the women bought small bottles of liquor at this shop and while one went on to make a garland and wear it, the others held up these bottles.
They mockingly said that since the state had pushed their menfolk into addiction they too would rather succumb to it.
A sizable posse of policemen and women were on duty. Later, some protesters were arrested.
Women of Srinivasapuram, the adjoining seaside colony have been protesting against this shop for a long time now.