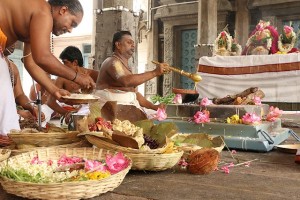 Balalayam is the first step before performing the kumbhabhishekam in any Hindu temple.  This is taking place at Sri Kapaleeswarar Temple of Mylapore – rituals began today, Sept.8.
The power and divinity of the two gopurams and the vimanams of all the sannidhies are transferred to kalasams of holy water at the space where the ritual is performed. These are poured on the bimbams (images) of gopurams/vimanams kept on a miniature structure ie Balalayam.
The repairs and repainting works of gopurams and vimanams can be started only when the divinities get descended to the holy water/the images.
Generally the pujas are then performed only to the urchavamurthis and not to the main deities till the kumbhabhishekam takes place.
But at Sri Kapali Temple, the chief priest said that people can visit the main deities and do archanas, but not abhishekam. The abhishekam to moolavar is done only once, early in the morning by the priests.
He also said it takes 3 to 6 months to repaint and repair gopurams/vimanams.
The prime balalaya rituals are to take place on Sept.9 from 9.15am onwards.
– Reported by V. Vasantha