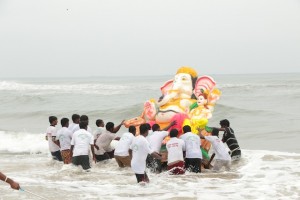 San Thome High Road was extra busy this Sunday – dozens of carts, vans and lorries drove down this busy road and were headed to one place – the beachfront of Foreshore Estate at the far end of this road.
All these vehicles carried the images of lord Ganesha, images which had been installed in public places in this part of the city for Vinayaka Chathurti. 
Each vehicle was packed with volunteers, many who drummed and cheered as the vehicles went down the road and gathered at the sandy front. Here, while the smaller images were carried and immersed in the sea, the larger ones were transported using cranes.
Many volunteers made quick work of this.
A large posse of police men and women not only lined the road but kept an eye on the crowd at the sea front.
The procession went on till dusk.