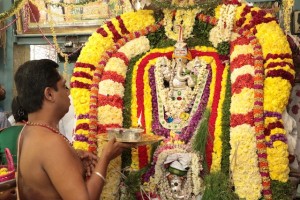 It must have been a quiet Vinayaka Chathurti celebration on Thursday, a holiday. There was a buzz on the mada streets – last minute shopping for the rituals at home. Last night, the market places were busy till late.
All the big Vinyaka Temples in the area have been hosting music concerts, classical ones and some big names have been performing here.
Vocalist Abhishek Raghuram was on stage at the temple on Warren Road.
Mami's Mess was abuzz too – sending off the kozhukkttais people had ordered. The place also served pongal, sundal and vadais.