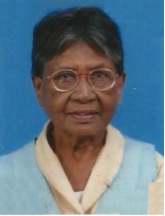 Miss Violet Alexander, a retired teacher and a long-time resident of San Thome passed away peacefully at Mother Teresa Home for Senior Citizens at Muttukadu on 20.09.15 aged 94 years. Miss Alexander had been brought to India from Africa by Mother Clemens of The Franciscan Missionaries of Mary as an orphan after her parents who had emigrated from India, died.
She was raised by The Franciscan Missionaries of Mary nuns who educated her and arranged for her training as a Middle Grade Teacher at the Church Park Teacher Training Institute the oldest in the country, well known for producing the best Anglo-Indian teachers.
The teachers were recognized by their excellent diction. Miss Alexander was noted for her careful enunciation and pleasant speaking voice. Her dresses were tailored by Shankar of Egmore. She was finicky about her table manners and carried a table napkin, spoon and fork when she went out which she used even on a plantain leaf at weddings!
She retired from Holy Angels Anglo-Indian Hr. Sec. School T. Nagar. For a short time after retirement she taught at Our Lady's Montessori Schools in the same campus.
She was a well-loved teacher as evidenced by her former students from India and abroad who wrote to her and visited her at the Home. In her will, she stipulated that whatever money she received as a pensioner from the Government, after her death, be used to institute a scholarship for poor Anglo-Indian girls by the Forum of Anglo-Indian Women of which she was a member.
Miss Alexander had the gift of friendship, of making friends and keeping them. Till almost the age of 92, she travelled frequently to San Thome to visit her friends, in a hired car from Muttukadu. In the last two years, she was confined to a chair, her mind clouded with dementia.
Her funeral at the Chapel in the Home, was attended by the Bethlemite nuns and the inmates, former teachers and friends from San Thome.
Her friends from the UK and Mangalore are planning to mark her grave in the obscure cemetery in Muttukadu with a proper tombstone.
Tribute by Dr Beatrix D' Souza/ San Thome