REMEMBERING M. S
Suswaralakshmi Foundation of classical music and performing music has organised a music concert as a commencement of centenary celebrations of M. S. Subbulakshmi's birthday. Talk by Gopala Krishna Gandhi, T. N. Seshagopalan and Cleveland Sundaram at 6 p.m. followed by vocal music by Aishwarya Shrinivas. On Sep 16 at Arkay Convention Center, 146/3, R. H. Road, Mylapore.
MONSOON RAGA
Sitar maestro Ustad Shujaat Khan, guitarist R. Prasanna, flautist B. Vijayagopal and others will perform at the 14th edition of the Barkha Ritu music festival. The event is organised by Banyan Tree Events and will be held at Sivagami Petachi auditorium, Luz Church Road. On Sep 12, 6.15 p.m. Tickets starting from Rs. 200 at bookmyshow.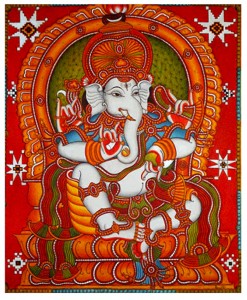 GANESHA EXHIBITION
Paintings of Ganesha by K. S. Nanda Kumar and his students are on show till Sep 16 at Vennirul Art Gallery, C. P. Art Center. At 1 Eldams Road, Alwarpet.
ELEMENTS OF NATURE
'Everywhere, Everyday' is an exhibition of artworks by renowned artists. The art works will explore the five elements of nature and their relationship to the five senses of the human body. Till Sep 30, at The Leela Galleria, Apparao Galleries, The Leela Palace, Adyar Seaface, R. A. Puram. Ph: 9941012388, 9686112078.
WONDERFUL VIGNETTES
This is the theme of the exhibition by artist Shivakumar, now Yuvan Bothi Sathuvar. The paintings are done in a classical style and depict scenes of people going about their everyday activities. The show is going on now at Sandy's, 2/15, Ganapathy Colony Main Rd. Ph: 9941012388, 09686112078 Till Oct 25.