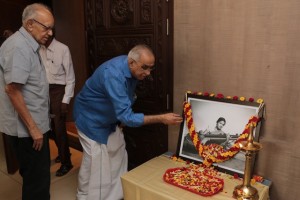 This is a different kind of tribute to the Carnatic music icon M S Subbulakshmi and is to be held at Bharatiya Vidya Bhavan on Sept.20, Sunday, 10 am onwards. The event is a Bhavans-hosted one.
Bhavan's head Ramaswamy says the event will focus on the spiritual and charity sides of MS, focussing on her interactions with the Paramacharya of the Kanchi Mutt and the actions that flowed out of them and also on the varied charitable actions of Sadasivam and MS in their lives.
Talks and short music interludes by various artistes will make this Sunday event that will end by noontime. Open to all. At East Mada Street.
Photo feature here was shot at the start of this event on Sunday.