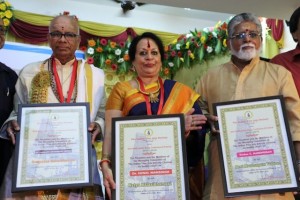 Three veteran classical artistes were decorated with awards by The Indian Fine Arts Society on its opening evening at a wedding hall on TTK Road in Alwarpet on December 17 evening.
The veteran guru and vocalist Dr Tadepalli Lokanadha Sarma from Andhra Pradesh and senior mridangist Trichur Narendran from Kerala. And, the famed dancer, Dr Sonal Mansingh.
When their turns came to speak, both music veterans had long stories to share, as they rewound their life stories and told the small audience of their journeys, each in its own colorful way.
Dancer Sonal Mansingh also went down memory lane, since her time in the early 1960s when she visited the city to learn Bharatanatyam which she is also a master of and the many recitals she has had since then.
Indian Fine Arts, which used to have its Season fest at German Hall, T. Nagar shifted to Ethiraj Kalyana Mantapam when that venue was shut down for repairs. This is not the best space for music and dance but for a sabha that is now hosting the 83rd edition of the season's festival, it has no option but to hire the hall and run the show to keep the tradition going.
Call 78457 55481 for info.
Lec-dems in the morning and recitals from 2 p.m. onwards.