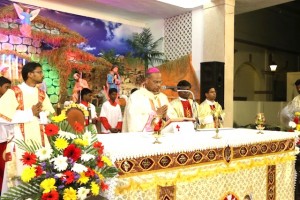 The mist was light, highlighted by the LED streetlights. And at the north end of San Thome High Road, the colors of Christmas were showing up.
As little boys from local nagars pulled out Santa Claus caps to sell them at the gates of local churches, families of this neighborhood and beyond streamed into church campuses – four of them located close to each other.
The Salesians who manage St. Bede's A-I School opened their modern auditorium for the English midnight Mass here. As the Revival Singers choir led by choir-master Michael Gaspar sang before the Mass began, the auditorium filled up and some 2000 people were here to take part in the Mass.
In the congregation were a group of young Salesian priests from the North East who are visiting Chennai; hosting them is Fr. Bosco, rector at St. Bede's.
The Thamizh Mass started almost at the same time as the service did at St Bede's. Archbishop Rev. Dr. George Antonysamy was the main celebrant and before the Mass started, the choir treated the congregation of over 2000 people to Christmas theme songs.
At both campuses, giant cakes were cut and cake pieces shared with the people.
Down the road, at the quaint CSI St. Thomas English Church, the campus was packed with families who attended the service while, next door the congregation spilled into the open inside the campus of CSI St. Thomas Thamizh Church.
At the church campuses as well as at schools that line this road, the buntings and illu