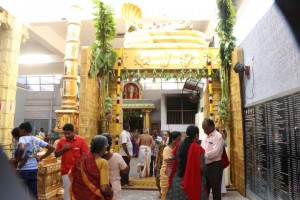 A grand celebration marked Vaikunta Ekadasi at Vedanta Desikar Temple, Mylapore today (Dec 21). The event which started off at 3.00 a.m. with the viswaroopa darshanam had several hundred devotees waiting in line as early as 4.30 a.m. to get a view of the deity pass through the paramapada vasal.
Later a Garuda sevai was held followed by a thirumanjam at noon. Thousands of devotees passed through the doors of the paramapada vasal which stayed open till after 10.30 p.m.
At Adi Kesava Perumal Temple, Mylapore, precious stones (vajrangi sevai) were used to decorate the deity. In the evening, flower vendors with empty tables (having exhausted their supplies early) were seen directing the devotees to other vendors down the road.
At Madhava Perumal Temple, a veedi purappadu was held after the paramapada vasal sevai. Pearls (muthangi sevai) were used to decorate the deity.