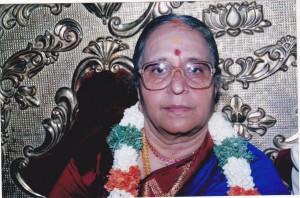 M. Seethalakshmi (82), wife of veteran film villain and stage thespian R.S. Manohar, passed away on Dec 1. She was a Resident of 6/13, Sri Rama Colony, Alwarpet, since 1971 to 2015 (44 years) .
Here is a tribute written to her by S. Shivpprasadh.
Seethalakshmi and Manohar were married as per their family elders' wish in a true traditional Brahmin style at  Gopalapuram on Nov 22 1950.
Seethalakshmi was good in Mathematics that it was she who managed RSM's earnings. Every fortnight she used to visit and manage their farms at Kalpaakkam, Siriseri and every month their Yercaud Farm and guest house. There were several instances in which she found irregularities in accounting during RSM's drama productions and pulled up a few for their corrupt behaviour.
Seethalakshmi was supported the renovation of the dilapidated Kothandaramar Temple and Kailasanathar – Kalyani Amman Temple at Poovanoor village near Needamangalam under the name "Sri Rama Bhaktha Anchaneya Sabha". Subsequent to RSM's demise (10.6.2005 till 01.12.2015) she took over the sabha's reins as active president monitoring day to day activities and financial funding of the temples and performed Kumbabishegams for both the temples with active support of the villagers just two years back. She, along with RSM, trekked the Sabari hills under the guidance of Maha Gurusamy M.N. Nambiar.
She used to accompany RSM for most of his film shootings and dramas, along with her kitchen kit, be it in India, Sri Lanka, Malaysia, Singapore, etc, for providing him his daily food at the right intervals of time. All RSM's drama dialogues would be on her finger tips and she would reel out as and when necessary in daily life.
Contact her family 28344876.