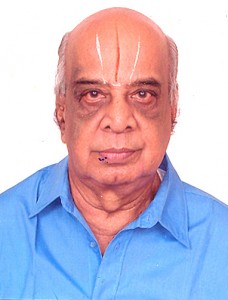 N. R. Narasimhan, aged 83, passed away on Dec 14. He was born in Mylapore and spent his entire life here too.
He hailed from an orthodox Vaishnavite family from the village of Navalpakkam, Vandavasi taluk. He studied at P. S. High School and the Loyola College and then did his M. A. at Pachiappa College.
Narasimhan was the eldest son of N. R. Raghavachariar, Advocate, supreme court, and author of 'Hindu Law'. Narasimhan was largely responsible for bringing out the latest three editions of the law.
'He was a interested in religious activities. He spent his retired years visiting several temples in the country. He made donations to a lot of temples too and renovated a vahanam in his native village' say his family.
Narasimhan was also involved in the growth and development of the Kalyana Nagar Association in Mandavelipakkam, during its formative years. He made contributions to the Ramakrishna Mission Students Home, Hindu Mission Hospital, Vishranthi and other welfare organisations.
He is survived by his wife N. Ramani. The family residence is at 34, West Circular Road, Mandavelipakkam. Contact them at 24615457.