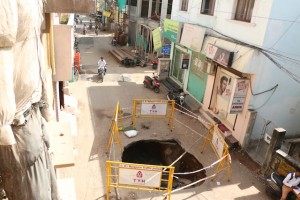 Motorists and pedestrians must watch out for portions of streets and roads which have either sunk in or collapsed following the early December deluge.
On Nattu Subbaraya Street, near the Thiruvalluvar Temple junction, a major portion of the street sank in – now road dividers warn motorists of the danger zone.
In places like TTK Road, alongside the flyover and in R A Puram, sunk portions often road pose a danger at night.