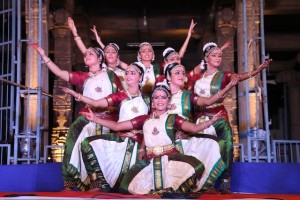 When an audience stays on till 9.45 p.m. in the open air to watch a 80-minutes long dance production, then there is something in it that makes them devote that much time.
Over 300 people sat to the very end of the dance production ' Bharathi kanda Bharatham', that was staged as the finale to the evening programmes of the annual Sundaram Finance Mylapore festival on day one – January 7.
Held in Sannidhi Street square outside Sri Kapali Temple from 6.45 pm starting with nagaswaram by sishyas of Mylai Rajendran, the square filled up and the attendance on a weekday evening surprised even the hosts of the festival.
Though the street-based sales of food, crafts, products of self-help groups and art have been cancelled this year to keep the event low-key following the floods of December and bad condition of the streets which are used for the Festival events, the day one attendance was big as people soaked in all that the Fest offered – performances, exhibitions and sale of snacks and souvenirs.
The big kolam contests are on Jan 9 and 10, 3.30pm on North Mada Street.