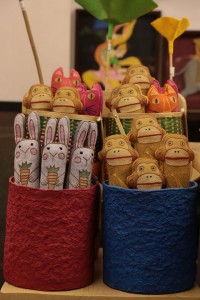 Home linen and clothes with tropical motifs
Designer Anais Basu's tropical collection Tia Pakhi's Tropical Paradise is on sale now at The Amethyst Room. The line features hand embroidered handloom cottons and soft textures, with designes inspired from tropical flora and fauna. The products are hand made in India. The home linen collection is available from Rs. 1,500 onwards and the clothing collection from Rs. 1,000.
From Jan 6 to Jan 13, at 106, (old number 79), Chamiers Road, Alwarpet.
Japanese inspired garments
The Boro Collection at Brass Tacks is a line of clothing inspired by Japanese style. The collection features dresses, tops, pants and jackets marked by unique stitching, patches and hues of indigo and blue on crepe and Bemberg silk, khadi cotton, linen and denim fabrics. Priced from Rs. 1,200 onwards. At 77/13, Corporation Shopping Complex, C. P. Ramaswamy Road, Alwarpet. Ph: 42081767.