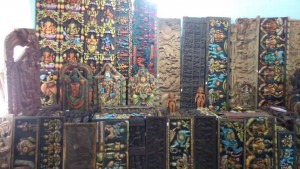 Handloom and handicrafts exhibition

Going on at Chettiar Hall is an exhibition of handloom and handicraft works. Sarees from different parts of the country like Calcutta, Kashmir and Surat are being offered. Handicraft items like Orissa pattachitra paintings, Jodhpur handicraft, Thanjur paintings, Rajasthan paintings, banjara bags, Andhra wood carving, Khurja blue pottery are also available. Till Jan 5.
At Chettiar Hall, 1st Floor, T. T. K. Road, Opp. Naradha Gaana Sabha, Alwarpet. Ph: 9941511220.
The S studio presents a collection of sarees in fabrics like tussar, soft silk, handloom matka, maheshwaris and  georgettes. Also showcased is a collection of kalamkari, kantha work, hand painted sarees and much more. At: Ekantha, Navasuja (inside Bamboola campus), 73 Venkatakrishna road, Mandaveli. Ph: 9840919818. On Jan 8 and 9, from 10.30 p.m.