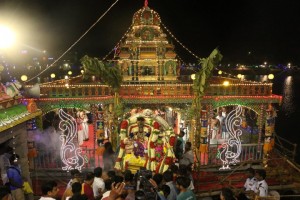 Thousands of people visited Sri Kapali Temple tank to take part in day one of the Thai poosam theppam festival. In the evening, the procession with Lord Kapaleeswarar and Goddess Karpagambal started out from the eastern entrance of the temple and made its way down the Mada streets before entering the tank from R. K. Mutt Road. The deities were then slowly lowered into the float.
The float, mainly managed by volunteers, did five rounds yesterday. People surrounded the temple tank from all the sides to get a glimpse of the float. Several people passing through the area too stopped to have a quick glance before walking out of there and heading home.
The City Police had made elaborate arrangements to manage the crowd. A fire engine and an ambulance too were parked near the temple tank.