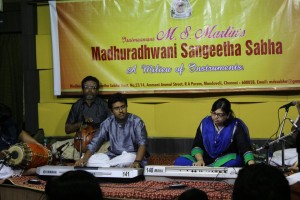 Madhuradhwani Sangeetha Sabha, Mylapore was inaugurated in Nov 2015 to nurture and promote young talents in instrumental music.  The sabha was founded by the keyboard guru of Mylapore, M. S. Martin.
The maiden sabha concerts in keyboard were held for three days from Jan 8 – 10 at Arkay Convention Centre, R. H. Road, Mylapore. There were three slots of concerts each day with students in the sub junior, junior and senior categories giving their best performances.
The last day attracted huge crowds with many eminent musicians and other sabha secretaries. Children played delicate ragas like charukesi, hindolam and abhogi. The event ended with the sabha secretary promising other instrumental concerts (like the violin and veena) from next year.