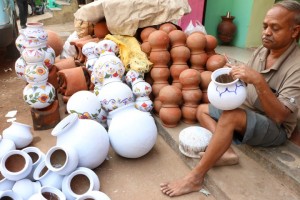 Mandaveli market has been buzzing with activity for the past few days with vendors setting up shops to sell everything from sugarcane and turmeric to mango leaves and pongal pots.
56 year old, M. Rajendran (seen in the picture) from Mylapore has set up a small shop with beautifully painted pots at the market. He says, "I have been in this profession since the age of 18. We start painting about a month before pongal and then we bring them over here to sell them. We buy pots and then paint it using enamel and water based paints".
Pot sizes range from really small ones that hold less than 150 ml of water to ones that can hold more 15 litres of water. Rajendran says, "We have pots from Rs. 10 – Rs. 600 depending on the size. Enamel based pots cost a little more. We manage to sell more than 150 pots during pongal. Sometimes, companies too place orders with us".
Rajendran also takes orders for marriages and other functions. For details contact him at 9551660285.