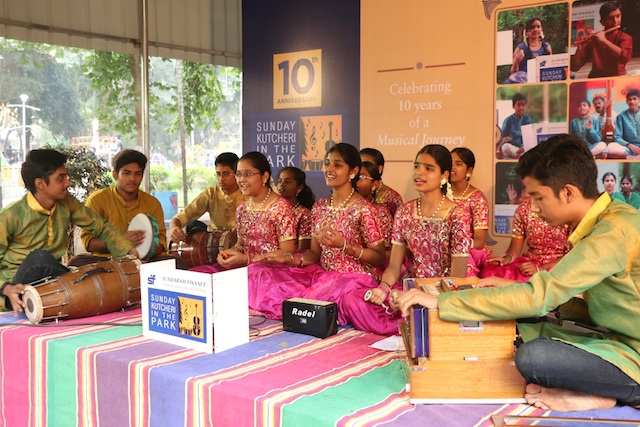 Many senior executives of Sundaram Finance came by to Nageswara Rao Park in Luz on Sunday morning as the company marked a milestone in a cultural series that it has supported in this community space. Ten years of the 'mike-less' concerts in the Chess Square of this park.
On Sunday morning, the students of Viswa Vidyalaya of Vandalur presented a rather vibrant bhajan-based concert to a large audience of walkers, guests and Sundaram Finance executives. The concert was for an hour from 7 a.m. and later, the company's MD, T T Srinivasaraghavan presented mementos and certificates to the students who performed on stage.
It was also an occasion for the MD and his team to gather at the Chess Square for a keepsake photo to mark this milestone which has also got a place in the Limca Book of Records in India for the longest running concert series of this nature.
The SF team of vice president Sivakumar and PR head, Sandhya curates the monthly concerts.