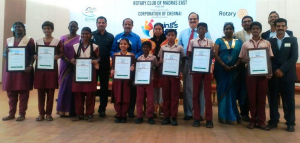 In an elocution competition for corporation schools in Chennai, captioned "Wings to Fly", 8 students have won the finals and also  a seat for an educational trip to Malaysia. This was organised by the The Rotary Club of Madras East in association with the corporation of Chennai. The finals were held in the presence of 700 students at Amma Auditorium, Shenoy Nagar.
Asia Mariam, IAS, Joint Commissioner of Municipal Administration and  R. Nataraj, IPS (Retd.) distributed the prizes to the triumphant students. The 8 winners will go to Malaysia for an educational and sightseeing trip for 4 days in May 2016.
70 corporation schools participated in the competition where 2000 students took part. The contest, in both English and Tamil, had two categories –  Junior (classes 6, 7, and 8) and Senior (classes 9 and 10).
One of the senior level winners is M. Rajesh, from the school on V. P. Koil Street, Luz. He is a student of class IX. His topic for the contest was "Unmaiye uyarvukku vazhikatti (Truth is the beacon for success) and he spoke about this in Tamil. Says Rajesh 'There were three topics given, I chose this one because it is something I believe in'.
Rajesh is a usual at such competitions and has won several prizes before – 'My teachers are a very big help to me – they guide me and help me research material for my speeches', he says.
What is his dream about his future? 'I want to pass the IAS exam and enter the service field' he says. 'I have already begun preparing for this. My dad Mathiazhagan, mom Kasturi and elder brother Senthil are fully supportive of my dreams and are proud of my achievements' he adds.
Contact his dad 9952050487.