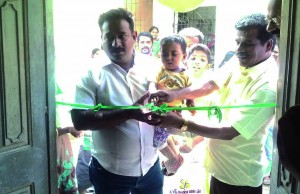 A play school for tiny tots – Vruksham Play School, was recently opened on land donated by the Welfare Association of Govindasamy Nagar, R. A. Puram. This 420 sq. feet facility is open during the morning hours for children aged 2 – 4 years and is free for the residents of this area.
M. Dayalan, the vice president of the association (seen in the picture on the left), says, 'There was a balwadi here previously and was it very useful to the residents of this area. When it closed down, the welfare association decided to collaborate with Vruksham to open another facility to provide a little relief to the residents, especially working mothers".
Teachers have been employed to take care of the children from 10 a.m. – 1 p.m. Toys, books and other play things have also been provided at this centre. Plans are on to open a library and to conduct computer classes in the near future.