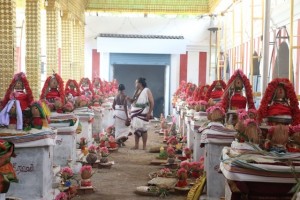 Homams and rituals are going on through the day at Sri Kapali Temple in Mylapore as a lead up to the grand kumbhabishekam to be held on April 3. A large number of priests are here to conduct the rituals required for this occasion, they taking turns at the religious responsibility.
All this is taking place in the north yard of the temple, which is now bounded from all sides for the purpose.
Meanwhile, infrastructure in being set up all around the vimanas and gopurams of the temple to provide access to the priests to carry out the rituals on Sunday morning.