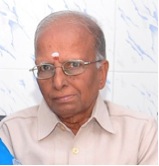 G. Vaidyanathan, aged 74, years passed away on Mar 16. He served in United India Insurance Company for more than 35 years. After retiring voluntarily, he worked as an insurance consultant for various institutions like Sundaram Clayton, Bajaj Insurance, Sab Wabco etc.
He was a resident of Mandaveli for nearly 5 decades. His family can be reached at "Madhurams Vijaya", 7/4, 6th Trust Cross Street, Mandaveli. Ph: 24640464
M. Arunachalam, aged 82, passed away on Mar 22. He retired from Indian Overseas Bank. Contact his family at 9444651118.
R. Kamala, wife of M. N. Venkateeswaran and mother of Thangam, former teacher at Lady Sivaswamy Girls School passed away on Mar 27.
Mohambal, aged 91, passed away on Mar 21. She was the wife of R. Lrishnamrthy Iyer (Hindu High School). She is survived by sons K. Nagarahan, K. Prabhakar and K. Shankaran, daughters-in-law, grand children and great grand children. Contact the family at 24994077, 9845159667, 9341898809.