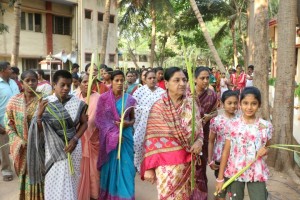 At Our Lady of Guidance Church at Lazarus Church Road, R. A. Puram, the Palm Sunday celebrations started as early as 7 a.m on Mar 20.
More than 200 people gathered at Dhyana Ashram at Madha Church Road to take part in a procession. The members of the procession carried palm leaves and sang songs and slowly walked to the church. The event ended with a special mass which was held till 9 a.m.
Palm Sunday marks the beginning of the holy week which ends with Easter on March 27. This day commemorates Jesus' entry into Jerusalem and the celebration that followed. It is believed that people sang songs and laid down their cloaks and small branches of trees in front of him.