Here is how several groups in the Mylapore area will be celebrating Maha Sivarathri which falls on March 7 this year: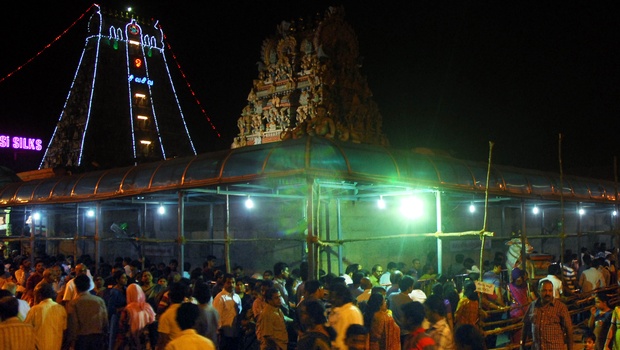 At Sri Kapali Temple, Mylapore, a naalu kalam pooja will be held all throughout the night. The deity will adorn four different kinds of vastrams – in yellow, red, green and white.
A Maha Sivarathri Nritya Stuti dance festival hosted by RASA will be held at Sri Kapaleeswarar Temple, Mylapore from Mar 7 – 9 and Sri Apparswamy Temple, Mylapore from Mar 10 – 12. Students of gurus Roja Kannan, Sujatha Parameswaran, Dr. Ambika Kameshwar, Srekala Bharath and several others will be performing at this event.
SS International Live will present a special show ' Shambho Siva Sambho' at Music Academy from Mar 7, 10 p.m to Mar 8, 4 a.m. Artistes like Aruna Sairam, O. S. Arun, Saindhvi Prakash, Mandolin Rajesh, Anil Srinivasan and several others will be performing at this event. Free prasadam and a devotional audio CD will be distributed to the audience. Open to all. At T. T. K. Road, Alwarpet.
At Bharatiya Vidya Bhavan, Mylapore, a musical night has been organised from Mar 7, 5 p.m. to Mar 8, 5 a.m. with performances by vocalists Gayathri Girish,  Ashwath Narayanan and Savitha Sriram, a music ensemble by Layapriyan Papanasam Kumar and a namasankeerthanam by Papanasam R. Ramani Bhagavathar and group.
There will be a music quiz at the end of each concert for which prizes will be distributed. At East Mada Street, Mylapore. 
 At Ramakrishna Math, Mylapore, a special puja and bhajan has been organised from 8 p.m. on Mar 7.  On Mar 8, a homam will be held at 4 a.m. and prasad will be distributed at 5.15 a.m. At R. K. Mutt Road, Mylapore. Ph: 24621110.
 Madhuradhwani is organising a musical celebration from Mar 7, 6 p.m onwards – it ends at dawn the next day –  at Arkay Centre, Luz. Highlights include a talk by Prof. Aruna Sundaram, Madras Sanskrit College on the significance of Shivarathri, performances by Vyasarpadi Kothandaraman and group (Nadaswaram), Maharajapuram Ramachandran, Tirumalai Brothers, Sriranjanai Santhanagopalan, Akkarai Sisters and several others. At 146, R. H. Road, Luz. Ph: 9381007317. 
 The Mylapore unit of Thamizhnadu Brahmin Association is organising a music and dance programme at Sri Velleeswarar Temple, Mylapore from Mar 7, 5 p.m. to Mar 8, 6.30 a.m. For details contact 8825774033. 
 At Virupaksheeswarar Temple, Bazaar Road, Mylapore a 10 ft high and 15 ft wide mountain with an image of Lord Shiva meditating in it will be set up inside the temple. The deities (utsava murthis) will be placed right next to the mountain and will adorn a sandhana kaapu. The temple will be open all through the night. 
 Every year, a unique religious theme-display is put up at Sri Malleeswarar Temple, Bazaar Road, Mylapore for Mahasivarathri. This year, the 12 Jothirlingams will be displayed at the temple's mandapam. The temple will be open all through the night and 'naalu kalam' pooja will take place from 9 p.m. to 4 a.m with abhishekams and aradhanais. At 2 a.m., Lord Shiva will be decorated with the Thazhampoo (screw pine) flower – done only once a year at this temple. Upanyasams, music concerts, Bharatanatyam recitals and other programmes will continue throughout the night.