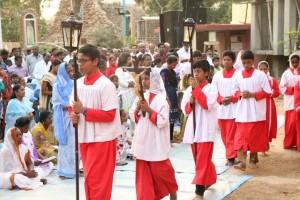 Good Friday was a day to mark it with acts of charity. In many local churches like the San Thome Cathedral, members of the community lined up to donate blood.
At the same campus, a group which calls itself ' Friends of St. Thomas' distributed buttermilk to church-goers. It was a hot day and the English service at the Cathedral started at 2 p.m.
At Our Lady of Guidance Church families who had collected rice/dhal as their donation during Lent, handed it over to the church to be given to the poor.
The Tamil service was preceded by a procession of the congregation which began from Dooming kuppam side and headed to the church.
The popular devotion, Stations of the Cross was conducted in all churches.
This photo was shot at the Our Lady of Guidance Church, R A Puram this morning.