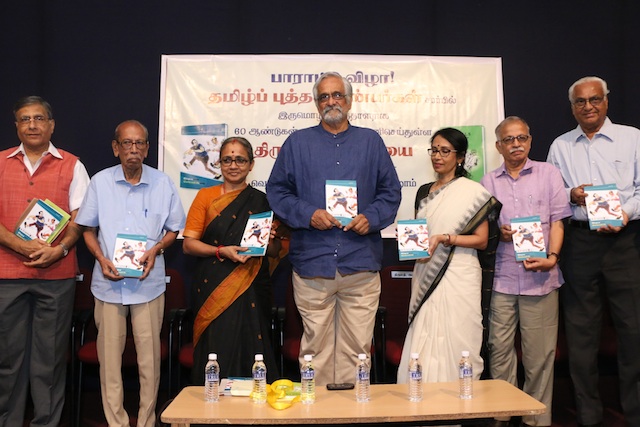 A packed hall at the TAG Centre in Alwarpet applauded warmly as two books of writer-author Charukesi were released this evening. One is in Thamizh and is a collection of some 30 interviews with a variety of people from union ministers to film stars. The other is a English translation ( by C G Rishikesh) of Charukesi's short stories.
It was also an occasion to celebrate a milestone in this Abhiramapuram resident's life – 60 years of writing.
The guests on stage included Sruti magazine editor V Ramnarayanan, dancer Alarmel Valli, ad-man R V Rajan, actor-voice specialist, P C Ramakrishna, Kalki magazine editor Seetha Ravi, R T Chari, promoter of the TAG Center and some events that it hosts through the year and Rishikesh.
This was an event of the Tamizh Puthaga Nanbargal, a  small group of Tamil book readers and authors who meet once a month to discuss an author's work.
It was also an occasion to talk about Charukesi and his work. Speakers spoke of his modesty, honesty, low-profile, attention to form and detail and his fiction which reflected human condition and contained warm or wry humor.
Charukesi started writing early, mainly for Tamil publications and has gone on to write fiction as well as report on news-related events and do features, travelling even at this age – he is in his 70s.
He is also involved in dance-based projects and reviews music concerts.
< In the photo Charukesi is seen second from left