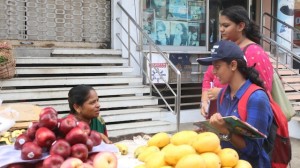 Four young Mylaporeans – all students – Shilpa Venkatesh from P S Senior, Soundarya Narayan from Sivaswamy Kalalaya, B. Apparajitha and Praveshika Kumar of Vidya Mandir – undertook a dipstick surgery for Mylapore Times this morning.
They were out at Nageswara Rao Park, Luz Church Road, V P Koil STreet and Royapettah High Road – talking to people here on a civic issue that is still troubling them – the one way traffic system that is in existence on R H Road and Luz Church Road.
The four spent 3 hours and have queried 100 people.
Mylapore Times will collate the survey results and comments and put it out soon. And then, take this issue forward.
< Post your thoughts on this traffic issue