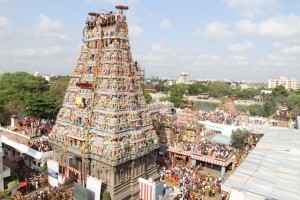 Hundreds and hundreds of people attended the grand maha kumbhabishekam of Sri Kapali Temple on Sunday morning in Mylapore. People started heading to the temple well before dawn and by 7 a.m. the crowds had packed into all sides of the temple, mostly on Sannidhi Street which allowed the best view of the consecration of the main, east gopuram.
The police made tight arrangements and that allowed smooth people-management this morning.
Only those with passes could enter the temple premises where, since 5 a.m. a series of rituals and homams were on. A variety of groups of religious music artistes were also present, filling the temple with the sounds of bugles, conches and drums.
Once the homams were over, the vimanams were consecrated and then the gopurams.
You can watch a three-part video coverage of this event at www.youtube.com/mylaporetv