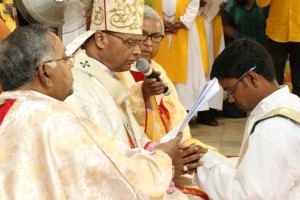 Five young men of the religious were ordained priests of the Catholic Church of the diocese of Madras-Mylapore at a grand Holy Mass held on Sunday evening at the St Thomas Cathedral in San Thome.
Archbishop Rev. Dr George Antonysamy was the chief celebrant at the special Holy Mass and he ordained the priests – among them was San Thome resident Dr Greith Mathews.
A large number of priests of this diocese took part in this Mass besides hundreds of people of the diocese.