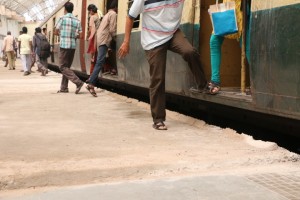 For a long time now, the commuters, especially senior citizens and children, at Thirumayilai MRTS station have had to deal with difficulties in getting onto and off the trains heading towards Velachery because of the huge gap between the footboard and the platform. Well, not any more.
The Engineering Works Department of Southern Railway has finally decided to solve that problem by increasing the height of the platform for a distance of 60 metres, mainly towards the end where the gap is the widest.
Work has started on this and once completed, the height of the platform will increase by around four to six inches. The work is expected to be done is phases to prevent any inconvenience to the public.