Every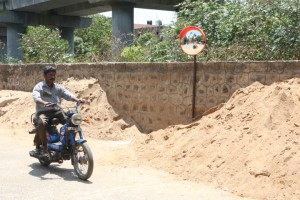 time S. Ramakrishnan, a resident of Seventh Main Road, R. A. Puram for more than 25 years, went for his evening walk he couldn't help but notice the chaos at the intersection of Canal Bank Road and Second Cross Road, R. A. Puram. The blind curve there reduced the visibility for vehicles and he witnessed a traffic mishap almost everyday. When he recently saw a collision between a van and a car he decided to take matters into his own hands and sponsor a traffic mirror to be installed at that intersection.
He then approached V. Sreenivasan, joint secretary of R. A. Puram Residents' Association (RAPRA) who connected him with the president and founder of RAPRA – Dr. R. Chandrasekaran. Together they managed to get the consent of Chennai Corporation and Traffic police in setting up the mirror.
Ramakrishnan says, "It has been a month since it was installed and I already see a lot of difference. Earlier, cyclists and two wheelers would suddenly brake and skid off their vehicles but now that doesn't happen. The mirror, imported from China, is made out of polyurethane and is expected to last for atleast 5 years. It can be replaced in the case of any damage. I intend to make sure it is properly maintained too.".