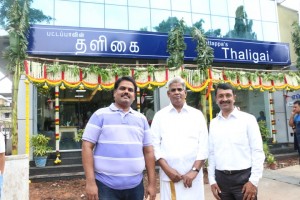 The opening ceremony of the new restaurant Pattappas 'Thaligai' was this morning (May 19) at 8 a.m. The place is located opposite the main entrance of Nageswara Rao Park. Decked out with beautiful flower garlands, it had the feel of a wedding hall.
The interior is decorated in traditional colours – purple background edged in gold, with brass lamps hanging from the ceiling. There were quite a few people this morning and all of them looked happy to be there. The smells of traditional food was everywhere and it felt like a scene from a small family function.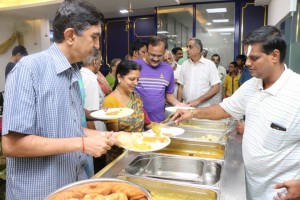 'Such a wonderful location. I walk in the park a few times a week, now I will come more often' says one enthusiastic fan from Mylapore.
Today's menu was idli/sambhar, pongal/vadai/chutney, poori/masala, rava dosa and their signature sweet ksheerannam (milk/rice sweet).
Needless to say, everything tasted excellent and the lack of onion or garlic was barely felt.
This was a symbolic launch; full services from Monday next.
< Read the earlier report = https://www.mylaporetimes.com/2016/05/popular-caterer-pattappa-to-launch-restaurant-in-luz-area/
'