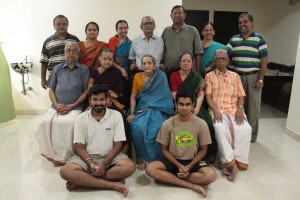 Rajamma Parthasarathy, wife of Late Rangaswamy Parthasarathy whose centenary celebrations were held last year, turned 90 on April 16. Her family consisting of her son, daughters and grand children had a celebration in her honour at her residence at 2nd Cross Street, R.A. Puram.
Rajamma, who hails from Kumbakonam, married Parthasarathy when she was only 14 years old. She did not get educated beyond middle school, but after settling in Chennai she caught up with the Madras society and rose up in the social ladder. She was very active in the social circles of Mylapore and was the president of R. A. Puram Ladies Association for many years.
Rajamma was a very good veena player and was a student of guru Ramaniammal of Mylapore.  She was a member of Rasika Ranjani Sabha, Mylapore right from its inception and would never miss a concert or event. She was versatile in carnatic music and knew and sang many songs. Being a great organizer, she not only performed the marriages of her children, nephews and nieces, but also single handedly arranged all the events at the function including hiring marriage halls.
Another main interest in her life was spiritualism. She came in contact with Sri Radhakrishna Swamiji of Sai Spiritual Centre, Bangalore which proved to be a turning point in her life. She became highly spiritual, spreading the gospel of love with one and all she came in contact with.
She is even today the centre of hope not only to her family but to all around in the society.
Reported by R. P. Ram Mohan