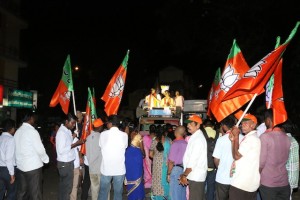 The election campaign bandwagons are doing more rounds of the Mylapore as candidates and their supporters up their efforts even as the agninatchatram season of summer picks up.
Congress candidate Thygarajan did not let the daytime heat discourage him and did the rounds of Luz and Mylapore on Tuesday noon and evening  while the BJP candidate Nagarajan concentrated on inner Mylapore that evening ( photo is of this campaign).
After dusk fell, a few mini vans and autos fitted with audio playing systems and engaged by the candidates ran across the area while a few took long breaks at street corners, affected by the heat.