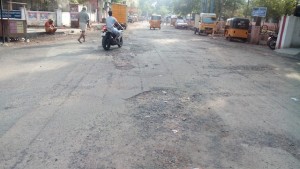 The road at the junction of Dr. Ranga Road and Canal Bank Road is in a  very pathetic state and it is very difficult to walk here.  ( photo feature there)
Also, driving down is all the more difficult now.  The road was scrapped for relaying and this work was left half-way without black topping.
The other 'bad' road is Royapettah High Road (Thiru Vi.Ka Road) where the road was dug up across the road to provide sewage connection for a new apartments complex (old Shanthi Vihar complex) next to Vivek store oom Luz – the are has not been blacktopped.
Similarly Judge Jambulingam Road in Mylapore and Ramachandra Road was dug up for laying new pipelines and are yet to be black topped and the gravel is spread all over the road.
Residnest want Corporation to address this issue now.
– Report, photo by C.R.Balaji / Citizen Reporter/ Mandaveli