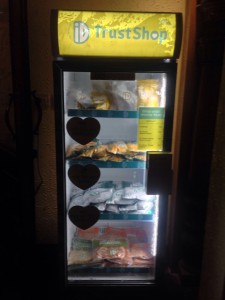 Zainab Surti, a resident of Rani Meyammai Towers – a gated community at MRC Nagar, talks about how the residents got together to take care of their daily food needs when the super market at their complex closed its doors.
'About two weeks ago, when the community departmental store at our complex shut down, the residents found it very difficult to take care of their food needs and missed the ready to eat food and idli/dosa batter sold there. The joint secretary of our owners' association – Balaji Seshadri then arranged to have iD Fresh Food set up a small refrigerator inside our club house.
The 'Trust Shop' stocks fresh idli/dosa batter, parottas and chapatis and is based on the 'Take now, pay later' concept. On their way back home, tired office goers can pick whatever they need and then pay for it whenever they can. Senior citizens too benefit from this service and often send helpers to pick it up for them. Our manager keeps track of the food sold here'.
'So far, we have received payments for all the food sold there', she adds proudly.
Photo by Zainab Surti