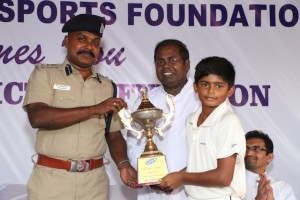 The Chennai St.Bede's Sports Foundation had the finale of its summer cricket camp held at the St Bede's school's playground in Mylapore. The event was held here on Tuesday evening. Deputy Commissioner of Police ( Mylapore), V Balakrishnan and priests of St Bede's school were guests at this event.
This year's summer camp commenced on April 1. Despite the heat, young boys from all over the city ventured to the camp to bring their cricketing dreams to life . 'The ban on CSK has not dampened our spirits for the Kings will rise again," said Ajith one of the young lads who has chosen M S Dhoni as his role model.
Known for its well maintained outfield and surplus number of training nets the St.Bedes academy is undoubtedly one of the best.
.With twelve experienced coaches and five ground staff the process of learning the game has been streamlined.
The boys are grouped based on their age and specialized training is given .
Shanker, the father of one of the boys in the camp said he was delighted to see his son bowl well now. He also said that he was willing to get his daughter enrolled in the camp if separate coaching for girls was started.
Contact 24980486 ,98400 70486.
Report by Antony Deepak Raj .J