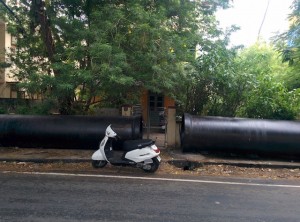 Residents in Thiruvengadam Street says that the pipes which lie on the pavements for a Metrowater project are causing civic problems in this area.
They say it is over 3 months since the pipes were unloaded and they hinder pedestrians who walk around to shop or to do odd jobs.
Some people have been hurt when they causes scrapes on people when they walked too close to the large pipes.
-Report and photo by R. Chandrasekaran