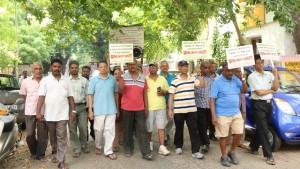 Some two dozen residents of R A Puram got together this Sunday morning and undertook a walking tour of the neighborhood to sensitise residents to the need to segregate waste and to adopt smarter ways of disposing it.
RAPRA, the community body of this area curated and hosted this campaign.
Residents held placards and shouted slogans to get the message across.
The procession was on from 8 a.m. to 10 a.m. with placards bearing  slogans like  "kuppaiyi roadil podathe"  and  "ungal veettu vayilil kuppaiyi segarithu vaiyungal" beg=ing held up.
"Ramky workers will collect waste at your doorsteps" – was another slogan.
An auto fitted with audio recording of the importance of collecting garbage at the doorsteps of residents and that RamKy workers will collect daily or on alternate days from their doorsteps was played.
Dr.Saravanan sponsored the placards and display banner.
RAPRA has encouraged smarter waste disposal and clearance for sometime now but there are slips and drags in this process. Its members say they wish to sustain the campaign.
Report by Dr R Chandrasekaran