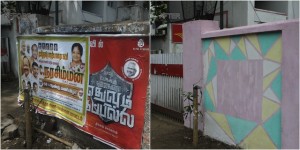 The outer walls of the Post Office in Mandaveli at the Mandaveli Street junction look bright and colorful now; till a few days ago they were, like all city walls plastered with cinema and political posters.
Volunteers of a NGO called Thuvakkam worked through the night recently – they had the
posters removed, the walls are painted, the footpath cleared of encroachments and obstructions and got some funky designs on the new-lok wall.
Or call Gunasekaran / PRO/Thuvakkam at 9445217281
The photo here shows the state of the wall before and after it was cleaned and painted.