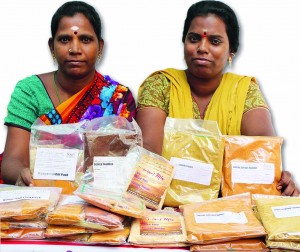 Manju and Chitra deliver home-made pods, masalas and coffee powder, made in Pondy. They hope this business will create better days in their lives.
Meet two budding entrepreneurs from Mylapore. Manju and Chitra, residing in Mosque ( Masudhi) Street, Mylapore, have recently signed on to be agents for an organic e-store – Aaharam. To market masala powders for daily use from their base just off Sri Adikesava Perumal Temple.
Their venture is called 'Veetu Chuvai'. The women take orders for the products on phone and will deliver them to customers at their doorstep.
Aaharam is a venture of Pondicherry-based Swaminatha Sharma. It initially began as an e-store and Sharma has now started appointing selling agents to market his wares.
A Mylapore social worker connected Manju and Chitra to the Pondicherry venture and the women are finding their feet.
Manju is excited about the venture. "These masalas are tasty and hygienically-prepared. I tried out the sambar and rasam powders at home and I liked the taste. So I decided to become an agent. We have podis without any garlic in them, for people who are looking for something like that. Our coffee powder and hing (asafoetida) powders are very popular."
Manju and Chitra have had to make ends meet all this while; they have had a rough ride but the 'break' their low-porfile social workers gave them has come in handy. 'This is hard physical labour. It is a tough life and the income from this venture will help a lot," says Manju.
"I am happy that I can look forward to a constant source of monthly income now,: she adds.
Incidentally, Manju and Chitra have also learnt chocolate-making and will undertake party orders. They are trained to make 15 varieties of chocolates in a professional, hygiene manner.
Contact Manju at 9941722368.
Quick Notes:
Aagaram is an organic e-store, started by Pondicherry based Swaminatha Sharma, to sell organic home made products used in day-to-day life.
Sambar and rasam powders, idli chutney powder, puliyogare powder are some of the items made by Aagaram.
Raw materials are obtained from the places where they are grown – for example chillies from Guntur.
All products are made at Sharma's home by himself and his family members.
Check out Aaharam at https://www.facebook.com/Aaharam-108201129327850/. They also have a blog where recipes are uploaded regularly: www.aagaram.blogspot.in